About Us
When you are in the mood for traditional Vietnamese dishes in Toronto, look no further than Pho Huong. Our menu includes an extensive list of all your favourite traditional and new Vietnamese dishes, including pho, vermicelli, pad thai, rice dishes, egg noodles, and rice noodle soups. Each dish is prepared with care by our skilled team, ensuring that the taste and quality are never sacrificed. Whether you are joining us for lunch, grabbing a quick bite to eat, or treating the family to takeout, Pho Huang always packs the flavour! Our great food, generous portions, friendly service, and reasonable prices are one of the many reasons why our loyal customers continue to rave about our restaurant. Explore our menu today and place your order online for delivery or pick up – it's that easy! If you are unsure what to order, we have you covered! A popular favourite is the Pad Thai. Each pad Thai dish contains egg, onions, peanuts, spicy sauce, and the option of chicken, shrimp, beef, or vegetarian. In addition, the Grilled Pork and Shrimp on Sugarcane, with Vermicelli and the Grilled Pork Chop and Egg Pancake on Broken Rice is another must try! If you have a sweet tooth, indulge in one of our incredible desserts that are bursting in flavour. The Grilled Banana Cassava or the Grilled Banana and Sticky Rice are absolutely amazing!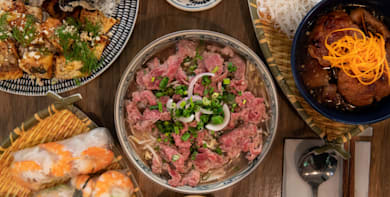 Reviews
"Excellent choice to switch to better packaging!!"
2022-01-14
"Only thing was they used different noodles this time, I like the smaller ones better. But thank you for the extra lime and hoisin :D"
2021-12-19
MARLA
"amazing wonton broth, great value."
2021-11-23
Tam
"It's better to put the condiments/add-ons on the side, so we can choose how much we want to put in"
2021-11-22
Contact Us
Find Us
394 Pacific Ave, Toronto, ON, Canada, Toronto, M6P 2R1
Opening Hours
Monday
10:15 AM - 9:45 PM
Tuesday
10:15 AM - 9:45 PM
Wednesday
10:15 AM - 9:45 PM
Saturday
10:15 AM - 10:30 PM
Sunday
10:15 AM - 9:45 PM
Please note, delivery times may vary.
We deliver to
M4V, M5E, M5J, M5P, M5R, M5S, M5V, M6B, M6C, M6E, M6G, M6H, M6J, M6K, M6L, M6M, M6N, M6P, M6R, M6S, M8V, M8W, M8X, M8Y, M8Z, M9A, M9B, M9C, M9N, M9P, M9R